CTEVT Result 2080 i.e. CTEVT Entrance Result 2080: Nepal Council for Technical Education and Vocational Training (CTEVT) Result 2080: CTEVT provides proficiency/diploma level, technical school leaving certificate, and short-term vocational and skill training conducting the examination and publishing their exam results.

CTEVT Entrance Result 2080
The CTEVT Entrance Result 2080 Nepal refers to the outcome of the entrance examination conducted by the Council for Technical Education and Vocational Training (CTEVT) in the year 2080 Bikram Sambat, which corresponds to 2023-2024 AD. This entrance exam is an essential step for Nepalese students seeking admission to various technical and vocational programs offered by CTEVT-affiliated institutions across the country.
The results are typically published online on the CTEVT's official website and are crucial for students as they determine their eligibility for admission to the desired courses. The scores and rankings obtained in the entrance exam play a significant role in the admission process, with higher scores increasing the chances of securing a seat in the preferred program.
CTEVT Result 2080
Certificate/Diploma level programs: The entry requirement for 3 years certificate/diploma level programs is SLC passed at least in the second division.
TSLC programs: The entry requirement for the following TSLC programs is SLC passed for the course of 15  and 18 months, whereas, under SLC for the course of 29 months.
Recently (2076/02/08) Result of the 2nd Semester Regular (Architecture, Automobile, Elec & Elex, Food & Dairy, Forestry, Hotel Mgt, IT, Mechanical & Social Work) Exam held on 2074 Shrawan/Bhadra is published online.
The Diploma in Electronics Engineering First Year Second Part (Back) Examination held in 2074 Shrawan-Bhadra, (2017) can be also checked online.
How to check the result?
Whenever the CTEVT publishes Technical and Vocational Education and Training (TVET) publishes any exam result, they uploaded it to their web portal. There is no way to find the result by Symbol No. online. However, CTEVT allows the public to search for some reports as follows.
District-wise Institute Count Report
Summarized Institute Profile Report
Yearly Examination Report
Students Performance Report
Examination Performance
Candidates from both Technical School Leaving Certificate (TSLC) and Diploma/PCL level may check results for Health, Engineering, Agriculture, Tourism and Hospitality,  Forestry, Management and Humanities, and other Trade-in Technical and Vocational Education.

Checking CTEVT Result 2080 with Marksheet
As a matter of fact, there is no way online to get CTEVT Result 2080 with Marksheet. However, a student may be able to know whether he/she is passing or not. The Council for Technical Education and Vocational Training (CTEVT) only shows the symbol number in the Pass category.
Visit www.ctevt.org.np
From the main menu click "Check Results"
Now the result page will open.
Select examination year "2080"
Now Enter your Symbol Number: example: 0123245
Now enter your Date of Birth: YYYY:MM:DD
Finally, click on the "Search" Button
Note: All the students who passed the examination should collect their marksheet from their respective Institutes.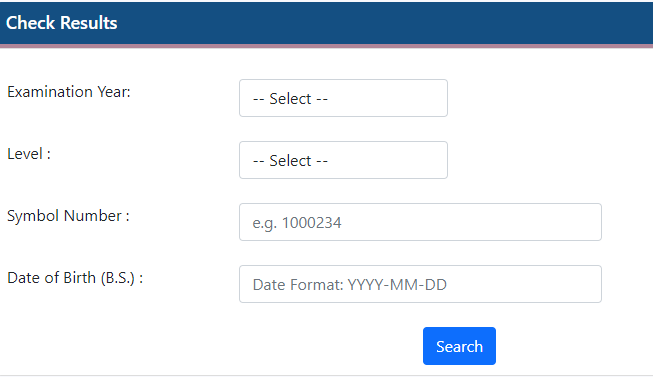 CTEVT
Council for Technical Education and Vocational Training (CTEVT) Council for Technical Education and Vocational Training (CTEVT) is an autonomous organization. CTEVT has remarkably expanded and developed the TVET landscape in the country. More than five hundred long terms TTPs and an almost equal number of short-term TTPs are currently operating their TVET activities throughout the country under CTEVT.
Besides, it develops TVET curricula, conducts research and studies, monitors and evaluates TVET programs to ensure their quality, and carries out coordinating activities among various TVET stakeholders. This Fact Sheet is published to inform related TVET stakeholders including planners and policymakers about the current status and activities of CTEVT in particular and TVET in general.
Check also
http://itms.ctevt.org.np:5580/check_results