11 Result 2076 Nepal: (How to check HSEB Class 11 Result 2076) Online & Via SMS. You can download the result with marksheet. Get latest your 11 result release date. In this page, we will discuss how to check and download your 11th class Result with marksheet via online as well as SMS.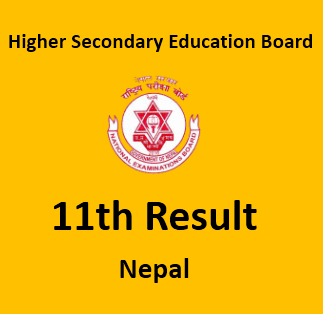 11 Result 2076
First, of all, the Class 11 result 2019 is likely to be released in the month of September. However, the Higher Secondary Education Board (HSEB) Nepal controller office may publish the released for this year. According to the HSEB guideline, the students will get the Marksheet with marks obtained in individual subjects.
Currently, in Nepal Education system after the class 10th, the Secondary Education Examination (SEE) is conducted by the Education board Sanothimi Bhaktapur. The SEE is divided into 2 years of schooling, one is class 11th and another is class 12th.
The higher secondary examination of Nepal is a national level centralized examination is conducted by the Board. This examination was popularly known as the 11th Class examination.
How to Check 11th Result 2076?
The HSEB Class 11 Partial Result 2076 and the Supplementary result will be published in time. See how to check HSEB Grade 11 result 2076. There are many ways to check the results, among them I will show the best and easy way to HSEB Result 2076 with marksheet online.
Option 1: IVR Sevice.
Option 2: Via SMS.
Option 3: Online www.ntc.net.np.
1. Check Class 11th Result 2076 Via IVR
1601 IVR for 10+1 (class 11) result enquiry can be used for both regular
and supplementary results.
Class 11 Results IVR no.: 1601
Call Charges: Re. 1 per 20 seconds
IVR System (From PSTN and CDMA phones)
2. Check Class 11th Result 2076 Via SMS
After the NEB published 11th result then students can check their result/score grade via SMS, type NEB (space) Symbol-number and send SMS to 35001.
Eg.: NEB 120655 send it to 35001 (Sparrow SMS)
You can get 11 Class Result 2076/77 by SMS as soon as you send (only after it is published by NEB).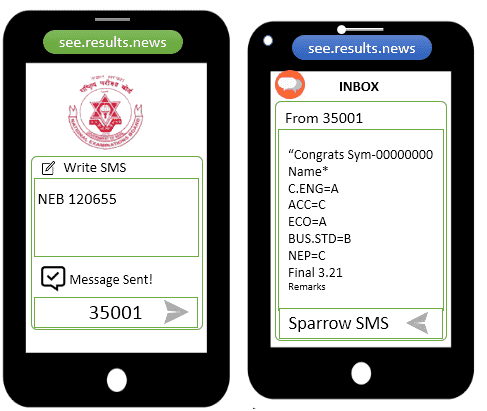 3. How to Check 11th result 2076 online?
You can search your result using your exam symbol no. Also, entering your exam symbol no. with the date of birth, you will get the result with grade details.
Type "soce.gov.np" or www.neb.gov.np or www.ntc.net.np in your browser address bar.
Click on "XI (11th Class) Result 2076"
Now the XI Result 2076 Page will appear.
Enter your exam symbol number (eg. 0010001Q or 0010001)and Date of Birth (eg. 2048/05/15).
Finally, click on the search button.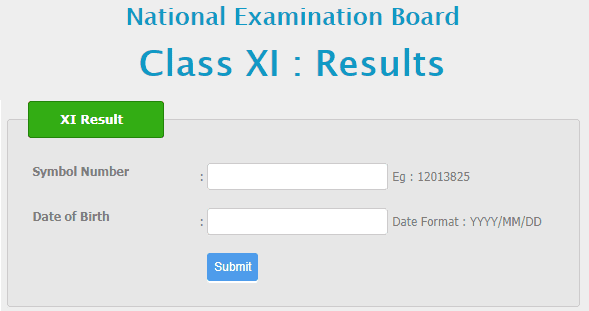 Nepal 11 Class Result Release Date 2076
The Office of Controller of Examinations (OCE), Sanothimi, is responsible for the "11 Class Result Date 2077". However, every year, the SEE exam result published in the month of September or 1st week of October.
11 Result Date: Last year (NEB Grade 11 Result 2075 Science, Management, Humanities, Education Streams) has published on Last week of September. As a matter face, we are expecting the 11 Result is likely to be published from 25th September to 05th October 2019.
See also